Our Mission
Our Mission is to serve those who are vulnerable and uninsured, providing free, quality dental services in a professional and comforting environment, utilizing compassionate dental professionals.  
---
Our History
Kentucky is ranked 35th for being the worst state for dental health. Our organization wants to contribute to making Louisville have better oral health by providing free dental services. We offer basic dental care. Some services we offer are cleanings, extractions, fillings, and X-rays if needed.
The first clinic was in the basement of St. Joe's Church in December 2015. The second clinic was at 4th Ave UMC in their basement. Since then we have made a full 4-chair clinic, along with a triage and storage room.
---
Our Staff
Dr. Jacobi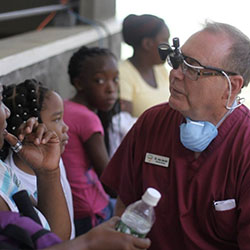 Dr Jacobi graduated from the Indiana University School of Dentistry in 1975. After enjoying a solo private practice of dentistry in Jeffersonville, Indiana for 36 years, he retired from that practice. He now serves as a mentor to the U of L Pre-Dental Society and is active in the Louisville Dental Society Free Dental clinics. He also volunteers with Remote Area Medical Clinics and takes pre dental students to 4-5 clinics each year. He also is an ADA Life Member and a Fellow in the Academy of General Dentistry and the American College of Dentists.
Susan Lewis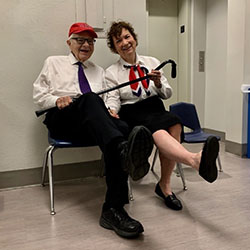 Susan has worked for the LDS since 1997, creating the mission statement, Connecting Louisville Dentists to the Community and to one another. Since 2002, she has focused the Society on Community Service events, beginning with the Smile KY! program to bring free dental care to children who have no dental benefits and member dentists participating in Neighborhood Health Fairs. All of the Community Service events are "manned" by volunteer dentists.
Dr. Ransdell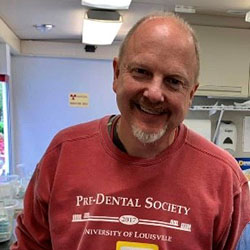 Dr. Ransdell was the president for the Louisville Dental Society in 2015. In early 2015 Susan & Dr Randy Ransdell began talking about leasing the dental van that is owned but was not being used by Louisville Metro. After negotiations with Louisville Metro, with Grants from Delta Dental the dream became reality. Our first free clinic using the Metro dental van—Miss Daisy—was on December 5, 2015 at St Joseph Catholic Church in the Butchertown area of Louisville. Dr. Ransdell's favorite quote is "Impossible is a word found only in the dictionary of fools".